Let's boost T, increase energy, beat belly fat and transform that body — or your money back!
(FULL YEAR GUARANTEE)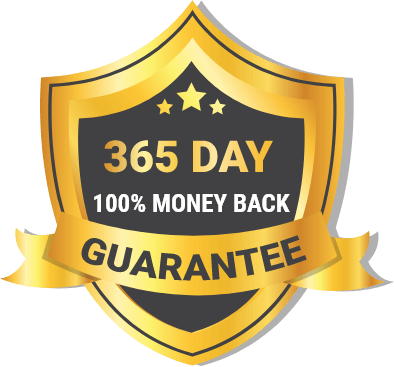 I'm not happy unless you're happy. I mean that…
And to prove it to you, I'll back you with my 365-Day 100% Money Back Guarantee when you purchase Fit After 50 today.
I want you to know what it feels like to hit the rewind button on your body and energy levels…
And have more drive and excitement for life than you might've had 10, 20, 30+ years ago… because you deserve it.
That's why I'm pulling out all the stops…
And taking all the risk off your shoulders and putting it on mine.
I've made everything so paint by numbers simple that most guys begin to notice improvement within the first 7-10 days… *Results may vary.
Just follow the system like I'm right there with you and if you don't experience what I've guaranteed in the next year, I'll send you a full refund…
No questions asked or hard feelings. That's a promise.
The program itself takes 3-months to complete. But the reason I'm giving you a full 12-month guarantee is because I want to give you some cushion…
I know you're busy guy… it might take you a few days to figure out the best time to train, get your groceries and those kinds of things. So I don't want you to feel rushed to start the program right away if you can't…
And I certainly don't want you to miss the limited time discount that you'll get when you purchase today.
At the very least, you can buy the program now and try it later…